Change The Game | AFL Victoria
Good Governance, Great Results Training
AFL Victoria is collaborating with the Institute of Community Directors Australia (ICDA) to deliver Good Governance, Great Results training for women in leadership positions.
This workshop will cover the following topics:
Getting the right people on board for the right reasons
Making your constitution work for you
Recruitment and succession strategies
Meeting legal requirements
Why is governance important?
Invitation only event
If you are invited, please choose from one of the following sessions:
Date: Friday, 19th November 2021
Venue: Marvel stadium - room to be confirmed
Session 1: 9:30-12:30 (max 30 Pax)
Lunch: 12:30-14:00 (for all participants)
Session 2: 14:00- 17:00 (max 30 Pax)

Bookings have closed
We really hope we will be able to have an actual face to face training day but we just have to wait and see. Either way we can work around that and make it an amazing day anyway if we have to reschedule the date or pivot to online 😊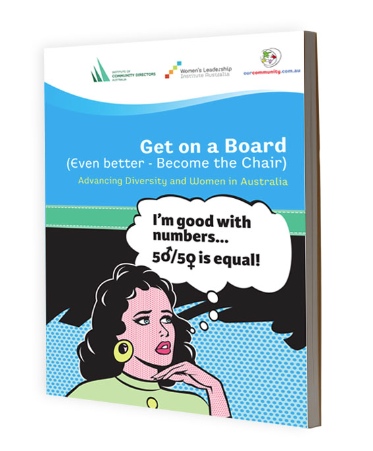 Every attendee will receive a free copy of
Get on a Board (Even better - Become the Chair) - Advancing Diversity & Women in Australia

Sadly, Australia's not the enlightened country it could be and should be when it comes to leadership diversity - there's a dearth of women on the boards of our corporate, government and not-for-profit boards (and even fewer chairs). Get on a Board is designed to inspire and empower more women to take the leap into the board arena. There are many insights for men as well, as well as for boards wanting to make their structures more welcoming to women. Get on a Board takes you on a journey through the board lifecycle, from first consideration of such a role, through finding the right board, getting the gig, honing your performance and, finally, moving on.